Intro

Yummi Scrummi Me
Personal Training, Deep Massage and
Nutritional Advice
We all lead such busy lives. In between work, seeing friends, being a girlfriend, wife, mother, even grandmother, exactly when do you get the chance for some important 'me time'?
The kids need picking up, the dog needs walking, the client is demanding an urgent meeting, the mother-in-law needs taking to the supermarket, the…… to do list is endless!
And what about us? We're real women. With real lives. With real parties to go to. With real cravings for chocolate…who REALLY want to get and stay in shape!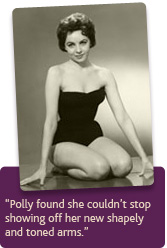 So…who better, than to shape up with Yummi Scrummi? We may not be able to hold that meeting for you or take Billy to school, but our speciality lies in weight loss, toning, shaping, massage and nutrition, even personal shopping.
At Yummi Scrummi we don't believe in fad diets or harsh regimes that won't fit into your lifestyle. Instead we maintain an environment in which expert Yummi Scrummi Personal Trainers will work alongside you on a one-to-one basis, to provide an action plan of nutrition and exercise, that will help you achieve results and get you in the best possible shape.
And wouldn't it be fab if you could have a workout and a massage when you wanted, in the comfort of your own home, a Yummi Scrummi Personal Trainer home, outside at a park near you, on the beach in the Bahamas? Well actually, the choice is yours.
Our mission is simple.
To keep you totally energised and seriously fit, in your day- to- day lifestyle.